A
AN ORGANIC AND GENTLE WAY TO ELIMINATE CRACKED SKIN
Dull and cracked skin is caused by dryness and accumulation of keratin that hardens and becomes dry over time. Dead skin becomes rough and causes skin discoloration. This happens in all parts of the body but mostly on the elbows, knees, and feet. 
You can eliminate dead skin with Orange peeling Lotion!  It is the best organic, safe, dermatologically tested, and FDA-approved peeling lotion on the market!
LET'S SEE WHAT OUR CUSTOMERS HAVE TO SAY
Brianna used to have really dry and dark skin on her elbow. Now that she tried the Organic Peeling Lotion, she now has smooth, hydrated, and even skin!
-" I unconsciously put my elbows on the table or some surfaces. Over time that darkened the skin on my elbows and really dried them up. I saw the Organic Peeling Lotion while scrolling for beauty products online. I used it on my elbows. Around five days or so, the skin on and around my elbows not only became lighter but it became smoother and more hydrated too! I'm so happy with the effects to the point I bought two more of these and recommended them to my friends! Thumbs up for me!"
Emma is an aspiring model with a knee and foot problem. She hates how dark and rough the skin around and around her knees and feet is. After one week of trying Orange Peeling Lotion, her skin was as smooth as silk!
-" Okay, before I go to the nitty-gritty details, I have to say that this is the absolute BEST product I've ever tried! The orange scent is super relaxing. The product itself is gentle yet super effective. It's so satisfying to peel off all that dead skin and it doesn't hurt at all! It took me around five days to a week to achieve brighter and more even the skin around my knees and feet! It also worked on my elbows and legs. I highly recommend this product!"
WHAT MAKES THE ORANGE PEELING LOTION SO SPECIAL? 
The Orange Peeling Lotion is made from organic materials that naturally nourish the skin  Made from Orange,  which contains Vitamin C that improves collagen production. Taurine Aid with skin rehydration. Lastly, Sodium Hyaluronate is a powerful hydrator that contains anti-aging properties.     
With these organic materials, the Orange Peeling Lotion is an all-natural solution for cracked, dull, and dry skin!
HIGHLIGHTS
Organic, Natural, and Gentle- 

The Orange Peeling Lotion is made from organic ingredients that are not only highly effective but also gentle on the skin. 

Orange-

It is a common fruit high in Vitamin C. It helps reduce inflammation and prevent the development of certain cancers. It contains antioxidants and supports collagen production. Orange has been widely used to improve and support the immune system. 

Taurine Aid-

 Taurine provides a myriad of health benefits such as fighting brain aging and supporting metabolism, necessary for people with digestive and metabolic problems. In cosmetics, Taurine helps minimize the signs of fatigue and rehydrates the skin.

Sodium  Hyaluronate-

 A popular component in many cosmetic products, Sodium Hyaluronate moisturizes deep into the layers of the skin and prevents the formation of wrinkles and fine lines. 

Lightening- 

The Orange peeling Lotion consists of Orange, the main ingredient, which is abundant with Vitamin C which is vital for skin lightening. 

Nourishing-

Made from Sodium Hyaluronate and Taurine, powerful moisturizers that penetrate the deeper and outer layers of the skin. 

Removes Dead Skin-

Remove dead skin and excess dirt with the Orange Peeling Lotion.

Painless-

Peel off dead skin and excess dirt painlessly with the Orange Peeling Lotion. 
HOW TO USE
Wet your skin. Do not pat dry. 

Use the product on your skin

Let the product sit for around 15-20 minutes.

Gently peel off dried product from your skin

Rinse your skin. 

Use for five to seven days to achieve maximum effect.

Avoid contact with the eyes, damaged, and bleeding skin.

Keep off the reach of children.

Store in a cool and dry place.

Avoid contact in high temperatures or direct sunlight.

For external use only.
SPECIFICATIONS
Ingredients: Orange, Taurine,  Sodium Hyaluronate
Net Weight: 100 g/ml
Shelf Life: 3 Years
Applicability: All Skin Types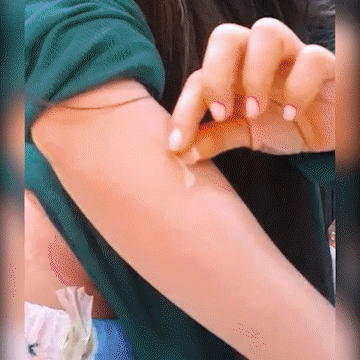 PRODUCT INCLUDES
1X Orange Peeling Lotion
Our Waltaps only supports online payment or bank transfer and does not support cash on delivery, please forgive me!
Our shop supports payment with Pay Pal, Debit or Credit Card.
If you want to checkout with Credit Card. Please Click Paypal and Search for 'Pay with Debit or Credit Card'


Enter your Payment details, your Billing Address, and your Contact Information.


RETURN POLICY (30 DAYS)
NO CANCELLATIONS OR MODIFICATIONS WILL BE ALLOWED AFTER 24 HOURS OF ORDER PLACEMENT.
All Waltaps products are sold as new and covered by our standard manufacturer warranty. Please consult a qualified professional to make sure the merchandise you are purchasing is what you want and will fit your specific field conditions. If you have any questions regarding a product, please contact us via email for assistance before placing an order.
We recommend that you open and inspect your items upon receipt, should you find any discrepancy or defect with your item, or if at any time you encounter any problems such as missing or defective parts please contact us immediately. We will gladly send you the replacement parts.

BEFORE RETURNING AN ITEM
To return any merchandise, you must request an RMA – "Return Merchandise Authorization" [within 30 days from the date order is received], from our online support department with your order number, and provide the item(s) you wish to return.

GUIDELINES
1. Merchandise must not be installed and must be in 100% resalable new condition.
2. You have to obtain an RMA number (Return Merchandise Authorization) from our online department before shipping back the merchandise.
3. Customer pays return shipping costs back to Waltaps's Warehouse
4. All Returns are subject to a 25% restocking fee, based on the value of the returned merchandise.
5. Shipping is Non-Refundable.
6. Products purchased over 30 days are not returnable or exchangeable.
7. Refused shipments and unauthorized returns will be subject to a 25% restocking fee, plus return shipping and re-consignment fees.

EXCEPTIONS
You will not be charged for a restocking fee if:
1. We shipped the incorrect item(s) to you. The merchandise you received is not what you originally ordered.
2. Merchandise has a flaw (not caused by shipping) or defect (must claim within 30 days). If it is damaged through shipping, please have your order/tracking number ready and contact the online department ASAP for further assistance.
If your order is flawed or defective, please contact our customer service representatives to request an RMA and you will be instructed on how to proceed with the return. Usually, You will be asked to place another order as a replacement and we will reimburse the amount after the returned merchandise has been inspected by our RMA Department. If you made an invalid claim, no refunds will be given.

CANCELLATIONS
You may cancel your order, for any reason, and receive a full refund within 24 hours of your purchase. You will be responsible for contacting us for a cancellation request. Once an order is processed or shipped, the terms of our Returns Policy will apply.
Any cancellation requests made after 24 hours cannot guarantee your request will be granted due to our expedited processing.
Please Note: Our warehouse works fast and orders are often already packed up, shrink wrapped on pallets, and loaded on courier's trailers before a tracking number is uploaded to you. In many cases becomes impossible to locate your box and stop the shipment. Once the order is en route, it then becomes a general return under our easy 30-day return policy.
A Customer Service representative will assist you and confirm whether or not the order can be canceled for a full refund. Once an item is processed, the terms of our Returns Policy will apply.
Refused shipments and unauthorized returns will be subject to a 25% restocking fee, plus return shipping and re-consignment fees.

NON-RETURNABLE ITEMS
There are some products that are just too delicate or bulky for us to accept as a return. For this reason, they're sold as "All Sales Final", so please make sure they will work for your improvement project before purchasing. If you're not sure, we offer free technical support to help you make the best decision.

RETURN INSTRUCTIONS
1. Buyer must obtain RMA number, follow the return instruction and pay to ship the product back to our warehouse at your own cost. Return without RMA number will not be processed.
2. Buyer agrees to pay a 25% restocking fee per item in your order. This charge may be made in advance or deducted from your credit.
3. All returned items must be in original packaging, show no sign of physical damage or parts shortage; this may affect the amount credited on your return.
All refunds will be credited back to their original payment method; Refunds are generally issued within 5-7 business days after receipt of the returned products. No refunds or exchanges will be processed before receiving your returned products.


We are sorry we are unable to offer exchanges but will be happy to help you process a return and place a new order, and waive the shipping fee on your new order.


* We reserve the right to deny a refund for any returned item that is no longer in new condition, in its original packaging, or is damaged, missing any labels, instructions, or pieces. Returned items that have been opened or are no longer in intact packaging are eligible for store credit only if accepted for return. The item may be subject to a 25% restocking fee or will be returned to the customer at the customer's expense.